I got an e-mail from
C Wonder
advertising their "Bling Collection" and I was intrigued.
I have only recently and tentatively started to wear costume jewelry. Other than my pearls, I rarely wear necklaces, but I do enjoy the lift a statement bracelet can give an outfit.
A couple of years ago I purchased a deep rose crystal bracelet from J Crew and it was the start of my new interest in fun accent pieces.
The crystal pieces and their successor in the crystal jewel range, the pricier Martha necklace were solid, weighty, sparkly cut glass pieces.
They were unique at the time and well crafted.
I then purchased, again on clearance, the geometric piece- I don't know its name.
I have truly worn this bracelet with absolutely everything, from dressy dresses to bathing suits.
I don't know if it is the soft antique gold setting, or the smoky crystal, but there is nothing that it doesn't match.
Vintage J Crew "Jewels"
Finally I added the stretch bracelet to my collection, because by this time, J Crew had stopped offering the crystal bracelets I was looking for.
Well, I loved the soft black, and I didn't even mind the stretchiness, because this bracelet, too,
was on a wonderful clearance.
However, I soon learned the hard way that I could only wear this bracelet with cotton shirts and twill or denim. Unfortunately, stretch bracelets are snaggerific( thank you
gigiofca
for that apropos word!) and destroy any fabric that is loosely knit or woven.
I saw some faceted deep cobalt faceted glass bracelets, and a very dressy large stone faux diamond looking geometric bracelet today at the J Crew concept store, but they were undoubtedly expensive, and not as casual and versatile. as the pieces I already have. ( Sorry I don't have pictures, but they were in the display case.)
So when I saw that C Wonder was offering similar looking pieces, I thought I would see how they compared.
As I
noted in my previous post, C Wonder is a fabulously fun shop, but the quality of materials is not always up to the caliber of design. Some of their jewelry is awesome, some of it rather cheap looking.
Triple Stone Drop Earrings
Glam Bling Ring
They passed the J Crew of yore (thank you, Alexis of
JCA
for this phrase) test for me.
The stones were pretty faceted glass, and the metal settings seemed solid and the gold plating was attractive.
They did not have the full range of colors that is on-line in store, but what they had was so pretty. I think that $28.00 and $38.00 seems reasonable.
However, the necklaces from the same collection were not as well made, and had epoxy stones rather than faceted glass.
They felt lighter, and IMO looked cheaper and were pricier .
I saw similar pieces at Banana Republic, but my initial impression was that they all seemed cheaper and flimsy, although some of the pieces online seem to be made of nicer materials.
I rarely wear costume earrings, and I suppose that the lighter stone is easier to wear, but they just seemed plastic-y to me.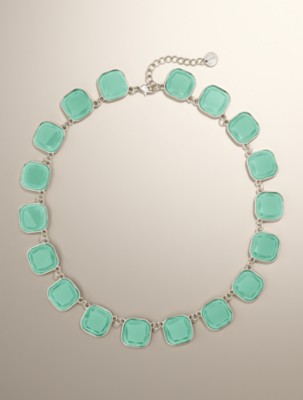 Talbots
I then looked in
Talbots
- OMG why do I even waste my time?
I have such fond memories of the Talbots of old- a venerable store with enviably crisp, classic, quality clothing.
I keep hoping, but suffice it to say that the crystal jewelry pieces I saw there were not inspiring, nor were they well made.
Madewell and Anthropologie were on my way , but they really didn't have any crystal style jewelry to speak of.
Do you wear costume jewelry? What is your favorite kind?