It is no secret that I love flowers.
This spring, J Crew has knocked it out of the park with some fetching, feminine florals that I am finding irresistible. My personal favorite is the Libery Lodden print. I am a fan of William Morris and the Arts and Crafts movement, but in particular, I have always been drawn to his Lodden print. I think that Beth Russell's adaptation of Lodden represents one of the finest interpretations in needlepoint of an art classic.Over the years I have purchased 2 copies of her books with the Lodden
pattern
. One day, I will make that cushion.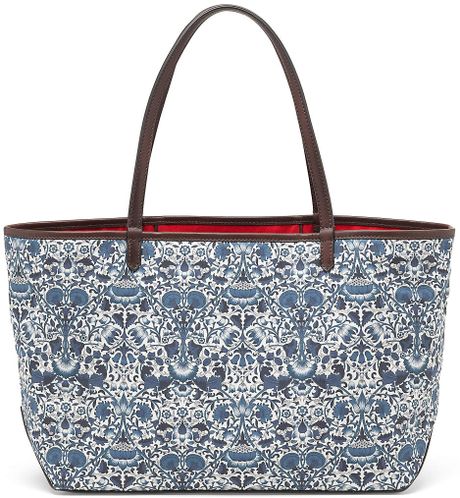 Last year's Brooks Brothers Tote
The Lodden Brooks Brother's tote from last spring will always be the one that got away , in my mind.
I hemmed and hawed because I loved the print, but really did not need another tote. Foolish, because the colors and leather handles were incomparable.
J Crew is offering the Lodden print in a gorgeous pink colorway. I have seen it in person, and the colors are prettier than pictured. They also have a green version of Lodden in a peasant styled bloue that I saw in store, but do not see on line. Now, I covet the Lodden blouse, but feel that $150.00 is a steep price for a cotton Perfect shirt, because they really do not flatter me. I am giving this a lot of thought, because I am so loyally enamored of the pattern and the colors, and I don't want it to be this years version of the one that got away. I am going to try on the other version in store today, and will let you know if it is a contender. The green color is wonderful, and green is my favorite color, but the pink is just sublime.
There are so many floral beauties this spring, I am delighted.
My fantasy pick would be this perfect pair of shoes from Salvatore Ferragamo.
But, my penchant for practicality would probably steer me closer to this...
Do you like floral festooned garments? Are you an ardent Liberty lover?