As enticing as I find the new fall roll outs at my favorite stores, I need to remind myself that it is still July(yay!) and that it is really, truly, ridiculously hot out. I know I am not alone when it comes to wanting to get the most use out of my summer items, and I am deliberately trying to discipline myself to use every (perhaps ill-advised) final sale purchase. I can totally be tempted by sale accessories that are out of my usual comfort zone. Good, because they can add an unexpected lift to my wardrobe, bad because sometimes I let the rarefied atmosphere and crazy lighting in a store sway my better judgement(extremely, blindingly, NEON, striped
bangle
I am talking about you).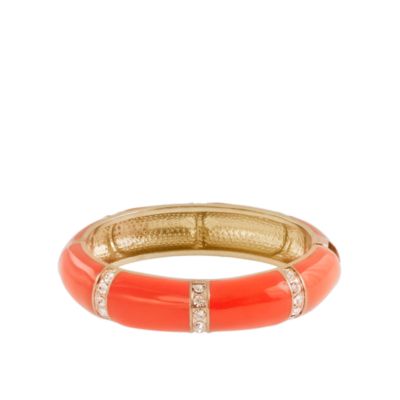 Trust me- it is not a soft coral IRL!
I fall somewhere in the middle when it comes to scarves. I am a confirmed textile-aholic. My job and my pastimes are both fiber related. Nothing takes dye better, or is a better garment surface for artwork than a scarf. Hand rolled edges speak to my appreciation for finer needlearts, and lovely silk twill is a luxury fabric still affordable in small pieces. From the iconic scarves worn by Grace Kelly to the current collections of couture designers, scarves add panache to any outfit.
Celine Fall 2012 from Style.com
But, I don't wear really them in the summer. Why then was I compelled to purchase not 1 but 2 ?
Orange polka dots- so cheery, and navy and modern red- well, I do wear a lot of navy...
I even agreed with the wonderful "Shopping with M" when she said in
this post
" I just can't make those look like anything other than an airline stewardess".
So I burst out laughing when I saw this headline the other day,
I have to admit that my J Crew scarf certainly looks like I could fly the friendly skies.
Thank goodness for the helpful insight from another favorite blog, the amazing In Pursuit of Pretty Things a few months ago in this post.
This Nordstrom video is such an inspiration.
And, for a virtually encyclopaedic blog about Hermes, scarf rings and scarf knots, I love to (aspiration-ally) visit the magnificent site created by a genuine scarf donning blogger, Mai Tai's Picture Book.
So, I am going to practice those great knots, and in the meantime, fall back on my old trick of rolling up my scarves, and wearing them as belts. And, I am going to remind myself, that I really, really don't need to buy this right away.